Home and Garden
Negative emotions such as feeling overwhelmed, fearful, feelings of doom or uncertainty … {Read More...}
One week ago today, my husband and I took the kids out to a few estate sales. We … {Read More...}
We are like rubber bands. When we grow and progress in any area or get past any obstacle … {Read More...}
Thrifty Diva
A cool breeze blowing through your hair, keeping the temperature from the hot sun … [Read More...]
My new motto when garage saling is that "you never know what you are going to find". … [Read More...]
My heart skips a beat when I hear the words: garage-sale, thrift store, thrifty finds, … [Read More...]
Inspiration for Women
[ad#bottom-post2] Flowers have always meant something special to me. My earliest … [Read More...]
"End Your Suffering by Learning to Shift Into Clarity ... in a SNAP! " A Free Telesummit … [Read More...]
These two videos give me chills and remind me how blessed we are to enjoy a full … [Read More...]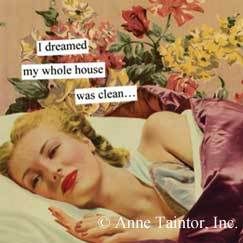 What is in our Deluxe Edition Magazine this month:
Training Mother Helpers: What Can They Do? Age by Age
By Shiloah Baker My rule of thumb is kids can do far more than we give them credit for. If you expect a good job, they'll give you pretty close! If you expect them to do a terrible job, you won't be disappointed. Set your standards higher. Remembering that a baby does not come directly from the womb with the ability to eat steak and potatoes, it is a learned skill. The kids who haven't done a specific chore before do not usually just know how to do it. That's okay; don't let it limit you or them. Teaching someone how to do a chore doesn't take much time, especially for children. They are quick and eager learners.
Read the rest of this article
or...
Join us today!
Homemaking Cottage Related
Do you have "to do" lists? Most of us do, no matter what form they take. I have friends who never write anything down yet manage to keep themselves and their families organized and on schedule. I on the other hand, have both a "to do" list and a planner in which I jot down all items needed to coordinate my days, weeks and months. As it is spring and I am in the middle of "spring cleaning", … [Read More...]
We are like rubber bands. When we grow and progress in any area or get past any obstacle in our lives it is like we are stretching to new heights. We're stretching beyond our limitations. Once we've stretched, learned and gained the wisdom from those experiences we can never go back to the previous shape. You are a better person with what you've learned through the growing process. Read articles … [Read More...]
Four years ago I walked into a chiropractor's office to be examined and x-rayed. He found that my neck was curved the opposite direction of what a normal neck curve should be. It was determined to be whiplash. I had to try to remember when I received it. The only major accident I had been in was when I lived in Germany years earlier. I was pregnant with my fifth child at the time and was so ready … [Read More...]
Series Columns
Welcome to our family, Evelyn Sophia-Grace Baker (baby #9, girl #7) Born Aug. 5th at 1:53 am after 1 hour & 18 mins of labor Weighing in at 8 lbs. 5 oz. and 20 inches long 8 excited siblings Proud Daddy We are so excited and to celebrate our new daughter's birth we are having a sale on all Deluxe Edition subscriptions! 50% off all Deluxe Edition Magazine … [Read More...]
Happy due date to me & wee baby that is so so comfy. :) We started our family puzzle last night (some outdoor hunting scene). So the big question is: Will baby be born before we finish? From an old Deluxe Edition article by Aine Schulmire, she wrote, "...an older lady who was waiting in line behind us walked up and lovingly put her arms around each of us. In a very non-condescending way, … [Read More...]
Our house feels like a small zoo with animals and kids galore. Just in time for spring we ordered butterfly larvae and a butterfly garden to keep them in. Painted ladies to be exact. They just emerged from their cocoons today and the children are so excited. What a fun learning experience it has been. Chickens: We have five chickens now. They won't be ready to lay until this summer. They are … [Read More...]
Crafts
There is something that I love about new beginnings. As we reach the end of the old year 2011 and get ready to welcome 2012 I have been doing a lot of reflecting over my life. 2011 has been a very good year, but also a year filled with intensity and trials. There has been so much good to outweigh the bad that I really still can look back with fondness. "There is in every true woman's heart … {Read More...}
Little people matter too, right? Being a mom of eight, I am always on the look out for projects that are fun for the kids but are practical as well. Here is a DIY chalkboard table for kids + how to make mini-benches. Enjoy! Mini- toddler table with mini-benches. The table is a coffee table with chalkboard paint on top. ♥ My kids ages 8-1 fit great around it. Use as a coffee table in your living … {Read More...}
Creativity is not a driving force. It happens. It creates itself and you have to be open. -Mayumi Oda, artist and writer Keeping my hands busy while I'm lying around bringing this little baby to full term has given me some opportunities to craft that I might not have taken otherwise. Here are some recent creations: Queen for a Day Tag 3 Mini Tags Or as my Bella {age 3} likes … {Read More...}
Apron Ideas
This is a white vintage apron I found at an antique store. I fell in love immediately! It fits my daughter, Meredith perfectly! (Click the picture to see it in a larger view) [ad#bottom-post2] … {Read More...}
I managed to get two more pics of the apron in the sunlight of my room. [ad#bottom-post2] … {Read More...}
Bella has her own apron now just like her big sisters! I made this apron last night from Simplicity pattern #3802. [ad#bottom-post2] … {Read More...}
Girl Talk
I've been complaining a lot to my sister how it is time I get back on track in many areas of my life. I've recovered from a long pregnancy where I was ill most of the time. My baby is three months old. What is wrong with me? I've been coming up with excuses or justifications long enough. I work hard as a mother. I run several businesses. I nurse my baby. I homeschool. I nurture my children … {Read More...}
1. The best way to reduce your stress is to enjoy our life. 2. Take control and responsibility for yourself. Direct your energies on the path that best fulfills your needs, wants, aspirations, and goals while allowing for your pursuit of happiness. 3. Don't live to fulfill someone else's expectations. 4. Writing in all its forms: essays, journal, books, etc. is a form of therapy. Enjoy … {Read More...}
I suppose I never really officially made the announcement that baby #9 is on its way in the Baker family! We are beyond thrilled! Years ago as we started transitioning into a "large" family I started reading as many books written by mothers of large families. I don't generally like "guides" because I like to do things my own way and each family is unique, but I love the stories. There … {Read More...}